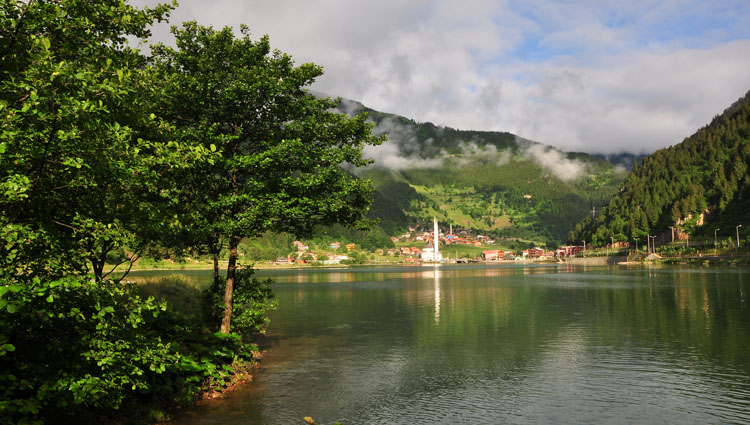 In order to reach Uzungol, you must first reach Trabzon Province. Those who want to reach Uzungöl by Rize, Artvin can reach Uzungöl by turning to Uzungol road from Of District.
Our charming town Uzungol is 99 km from Trabzon Province. With Çaykara Tour Minibuses located in Trabzon Central Çömlekçi District, there is a shuttle service to Uzungöl every 20 minutes on average every hour of the day . In addition, minibus services are organized by some companies from Meydan location to Uzungol. If you plan to reach Uzungol with your private vehicle, we recommend that you will have a very nice day.
By following the Trabzon-Rize Coastal road and following the districts of Yomra, Arsin, Araklı and Sürmene with a beautiful view of nature, you will reach Trabzon's Of District. By following the road that turns to the right from the district entrance, you enter the Çaykara road.
The distance between Of District Center and Çaykara is 55 km. While traveling in this direction, you will pass through colorful and beautiful tea gardens. Along the way as well as visit the tea factory lined up even tea you can even meet your needs. After reaching Çaykara in the direction of the west of Solaklı Valley, this time you will cross the eastern slope of Solaklı Valley.
On the Eastern slope of the valley , you will reach Uzungöl with a 20-minute journey from Çaykara with the great effect of the clear ice-cold waters flowing from the stream beds and the magnificent beauty of the Solaklı valley.
From now on, the rest is up to you… Either enjoy a magnificent trout feast, or meet the delicious dishes of the unique cuisine of our region… And try to live every moment and every minute of Uzungol, the paradise of tourism , to your heart's content.
Road : Trabzon from Turkey has almost all the provinces of the mutual buses.
Sea Way : Trabzon as the ferries connected to Izmir and Istanbul, held in the summer, during the year traveling to various CIS countries acentalarınca organizes ships and buses.
Air Way : International as one of our country open to traffic from Trabzon Airport provided air transportation to many provinces, Germany, the Netherlands, and the Neighboring Countries with well maintained mutual expeditions.