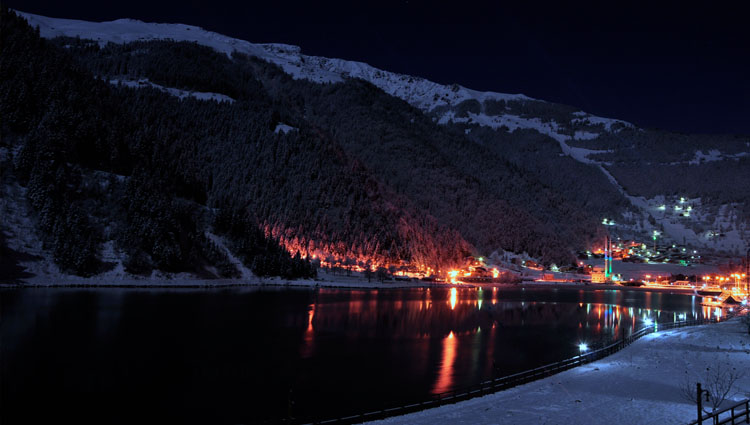 Our Town Uzungol
Uzungol is the place where all the shades of the four seasons will be lived to your heart's content. You will see that pitch flowers have bloomed, the Solaklı stream has ramped up, the comars have awakened, the sky has been painted blue… It is spring in Uzungol. You see, people are on the way to the plateau, the birds are composing in the branch, the green says I'm here in the land of the mountains… Summer has come to Uzungol. You see, a deep silence in the mountains, the wind blows leaves, a colorful forest, a sun that does not tire, trees crying… One remembers death. Man looks like nature, like the last state of human life before death, autumn has come before winter. You see, pine trees covered in snow like a bride wearing a veil, and roe deer approached people, the mountains were frozen, the snow swallowed all the dirt… Uzungol has come winter. Whatever mountain you climb, Uzungol appears from the top. Uzungol is actually a huge paradise. The lake is just its visible beauty next to it. Beautiful plateaus, glacial lakes, a wild life in its own right among the surrounding mountains, wolf, jackal, bear, lynx, fox, boar, bird, beetle, squirrel, pied marten, owl, mountain rooster, badger, otter and many more For centuries, people lived here in the culture of the Black Sea, drank water from rivers, cut grass from meadows, migrated to plateaus, spent many lifetimes, played horons, played pipes, fiddle, and overalls for centuries. Even if you stay in Uzungol for years, you will see different beauties every year. Because the spring is not like the spring of the previous year. The leaves turn yellow every autumn, but there is a change every year. You feel it but you don't know what it is. Uzungöl does not snow in the same amount and beauty every year. Uzungol is waiting for you with all its beauty worth seeing ...
Although agriculture is not very developed due to the altitude and rugged terrain, Uzungol also has an important potential in terms of organic agriculture, thanks to its natural resources and the absence of traces of industrial pollution. The same conditions ensure the production of high-value products in terms of taste and nutrition in beekeeping, which is seasonally revived in the region.
Around Uzungol, Karester, Veli, Büyükyayla, Küçükyayla, Şekersu, Tabanoz, Limni, Multat, Durnalı, Kari Helmet, rich pastures, endemic plants, unique flower species, clean, abundant and healing water resources, natural animal husbandry, pure milk and dairy products.It is possible to come across animals such as bear, mountain rooster, mountain goat, fox, lynx, jackal, wolf, barn owl, roe deer, calendula, and hare in the Uzungol forests, which are very rich in wildlife.