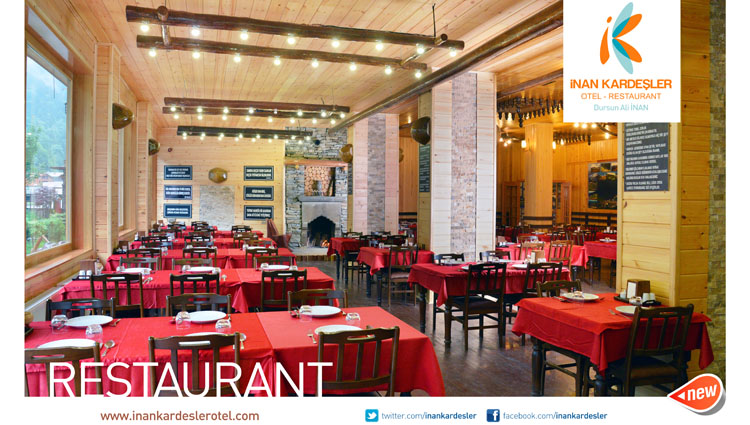 Trout
Trout, that is grown in the highland waters, which all visitors to Uzungöl absolutely eat, has a different place. It gives flavor as the main dish at the tables of the visitors. The taste of trout grown in Uzungöl is that it grows in the cold waters of the Haldizan Stream. Trout are completely grown in natural environment in Uzungöl. Making it in the special butter of the region adds flavor to its flavor.
Corn Bread
Material: Corn flour, hot water, salt.

Preparation: Put the corn flour in a deep bowl and knead it slowly with hot water so that it does not clump. Some salt is added during kneading. On the other hand, pleki is heated. Prepared corn flour dough is put into the heated plek, and it is covered with a sheet metal. It is cooked by pouring embers on the sheet. (Or cooked in pilita.)
İç Hoğiç (Vegetable Bread)
Material: 1 kg corn flour, 1 tea glass oil, salt, 1 kg spinach, chard

Preparation: After washing the chard, it is finely chopped. A little salt is put in the chopped green vegetables and their water is extracted. Take the kneaded dough on a tray, open the middle, and put green vegetables in the middle. Put the remaining half of the dough on it and cover it. Put oil or butter on it and put it in the oven.
Bean Roast
Material: Green beans, garlic, onion, butter, parsley, salt

Preparation: It is washed in plenty of water by cleaning the bones of the beans. Divide it into two halves and boil, strain, set aside to cool, and squeeze the juice. clean the onion and finely chop it. Butter is melted in a pan. Add the onion and fresh beans and fry. Finely chopped garlic and parsley are added into the roasted beans and roasted for 1-2 more minutes with salt.
Haricot Bean
Ingredients: Baked beans, onion, cubed meat, butter, tallow mint

Preparation: Dry beans are soaked overnight. Butter, onion, tallow and meat are roasted in a pot. After it is roasted, beans are added and mint is added after it is cooked with water.
Pickled Beans
Material: Bean, water, salt, garlic

Preparation: Fresh green beans are picked and washed, then their bones are removed and washed again. A pot is filled with boiling water and the beans are taken out after waiting until their color turns yellow. The beans that have been removed are filled in a large tray and left to cool, after they have cooled well, they are filled in a cube, water, salt and garlic are placed and covered with vine leaves. A weight is placed on the materials to remain in the water.
Muhlama
Material: Cheese, flour, butter, small amount of water

Preparation: After the cheese is finely chopped, flour and some water is added into it and the butter is heated on the stove. It is cooked by pouring the prepared mixture into the butter that we have heated, until the cheese inside melts. In some villages, it is made by adding onions and eggs to muhlama
Cabbage Meal
Ingredients: Black Cabbage, Kidney Beans, oil, cornmeal, tallow, salt.

Preparation: Kidney beans are soaked overnight. Cabbage is cut into small pieces and boiled. The kidney beans are boiled and mixed with the boiled cabbage. The onion is cut into small pieces. It is roasted with oil and tallow until it turns pink. Mix the cabbage and beans with the roasted onions. Add salt and pepper and leave it to cook over low heat. After it is cooked, it is cooked and taken back by adding it into 1 bowl of corn flour. If possible, meat or roasting can be added.
Cabbage Rolls with Meat
Ingredients: Kale, cubed meat, onion, rice, vegetable oil, parsley, garlic, mint, black pepper, salt.

Preparation: The cabbage stalks are broken and washed and put in a pot full of water and boiled. On the other hand, the inside of the wrapping is prepared. The meat is finely thinned and chopped, finely chopped onion, rice, garlic, parsley, mint, salt, black pepper and oil are added and kneaded. The prepared mixture is put into the boiled cabbage and wrapped when the finger is thick, and a pot is lined up, it is cooked on low heat by adding the amount of water to the wrapping.
Crushed Cabbage
Ingredients: Kale, tallow, cornmeal, salt.

Preparation: Wash the cabbage and chop it finely and boil it in water. Pour the boiled cabbage juice, put it back into the water, add tallow and salt, and cook. After cooking, the corn flour is crushed with cabbage paste. It is cooked for 10 minutes and taken back.